This week, I submitted a piece to the OpEd page in the Calgary Herald, and it's in the paper today.
I'm pasting in the copy below.
It's all about aging bravely – yet here's the thing. When the editor said he was sending over a photographer, I demurred. "Hey! I'm almost 69. I don't do photos."
"Ha! Where's that bravery now?" he queried back.
"In the face of a camera lens, bravery runs to the hills," I joked (kind of).
Alas, there are a few grains of truth in that comment. Vanity clings like a barnacle to a whale. No matter how much I 'grow up' – or grow older it's a constant freeloader gnawing away at my self-esteem!
Anyway, Darren the photographer, was charming. He showed me the photo he was going to use to make sure I was happy with it — and for those who wonder what on earth am I working on, they're paper mache bowls for the Christmas dinner table. (the OpEd editor thought they were giant eggs! 🙂 )
OPINION: For baby boomers still working, you have nothing to fear but your own insecurities
Author of the article:
Publishing date:
Nov 25, 2022 • 1 hour ago • 3 minute read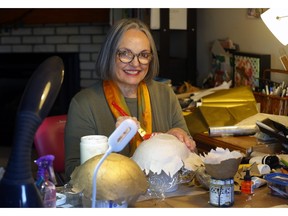 Baby boomers, born between 1946 and 1965, have played a significant role in shaping Canadian society. Aged 55 to 74 now, boomers continue to impact society through the Great Retirement. Record numbers of boomers are leaving the workforce, causing employment shortages in Canada.
In 2019, a few months shy of my 66th birthday and after almost 20 years in leadership positions in Calgary's homeless-serving sector, I was ready to embrace the Great Retirement.
The first six months of what I called "my reinvention" were great. Lots of time visiting with my toddler grandson in Vancouver, volunteering, time in my art studio creating and sharing my love of creative expression in art shows and art-journaling classes.
Life was good. And then, my husband was diagnosed with COPD, my 97-year-old mother took her last breath just before COVID-19 hit and the world shut down.
Lockdowns kept me busy in my art studio and kitchen, while video calls kept me connected. By the end of the second autumn of COVID's rampage, however, I realized something was missing. I felt aimless and lost, constantly pondering my purpose.
Was it time to go back to work?
I made a plan: Dust off my resume. Contact colleagues in the not-for-profit sector about contract work. Get the word out I was in the market.
The plan had one drawback. The idea of re-entering the workforce after a two-year hiatus at the "ripe old" age of almost 68, caused me to break out in a sweat. I was afraid.
Afraid of what, I wondered? Rejection? Being laughed out of a boardroom for suggesting I still had value?
Fortunately, a former co-worker, now CEO of Prospect Human Services, an employment services not-for-profit, called one day and asked if I knew anyone interested in a contract role in my areas of expertise. I quickly recommended myself. Within a month, I was working from home three days a week, learning a new sector, team and organization.
Problem was, though I was energized and excited about the work, my unconscious biases around aging were tripping me up.
We live in a world where ageism is prevalent; it's seen in the absence of older people in the media we consume, from models in fashion magazines to movie leads. We idolize youth.
Our internal age biases are more subtle. We use terms like "having a senior moment" when we misplace our keys, even though we've habitually lost our keys. We make jokes about older people and talk about aging as a nasty business not for sissies.
Re-entering the workforce in my late 60s, I discovered I held biases and fears about being older, not because my workplace didn't welcome me, it did. My unease was because I was uncomfortable in my aging skin.
Even though there was no evidence I'd lost my ability to contribute to the execution of an organization's strategic plan, when I first re-entered the workforce, I worried that anything I did that revealed my lack of sector knowledge would be chalked up to my age, not the fact I was on a steep learning curve.
The average age of the organization is 41. Scanning 120-150 faces on all-staff video calls, I didn't see a lot of faces fitting the baby boomer profile. I worried about fitting in.
Competency issues followed. I worried I'd never remember, let alone learn, all the data and information I needed to do my job, including, making a difference — to anyone.
On the job I've learned, I had nothing to fear but my insecurities, and their value is insignificant compared to the knowledge and experience I've accrued over 40 years of building my career. Those 40 years have provided me with a lifetime of wisdom to draw on that informs and enriches all my interactions; whether at the boardroom table offering cogent ideas on what works and doesn't work to build the organization's public reputation or in the staff cafeteria cleaning up after myself.
I turn 69 in a couple of weeks. Before I returned to the workforce, I'd never have said the number out loud.
Now, it no longer scares me — because returning to the workforce has taught me it's time to grow up and stop treating age as a dirty little secret. It's time to accept age is an asset that increases in value with every breath we take.
Louise Gallagher is a Calgary writer, artist, story-teller, the director of communications for Prospect Human Services and a volunteer board member of THIRD ACTion Film Fest.